Getting to Know Kabrita Goat Milk Toddler Formula
I remember when my first child was born I had every intention to breastfeed him; however, after struggling with it, I quickly came to the conclusion that it might not be an option for me.

This is a sponsored post, but we are selective on the companies we work with to ensure they align with our community.
Frustrated and upset, I called my pediatrician to discuss my options and I remember her asking me, "What do you want to do?" I expressed that I wanted to feed my son anyway possible. Her response, "Great answer." Soon after we switched my son to formula, and it was easily one of the best decisions I made for my family.
When I was pregnant with my second, we thought we would look into different formula options, just in case. One of my friends recommended Kabrita, a goat milk formula. It honestly had never crossed my mind to consider goat milk formula, but once my husband and I started researching its benefits and spoke to our pediatrician, we agreed that it was something we wanted to try with our second child.
When I began researching goat milk formula alternatives, I started by learning the benefits of goat milk vs. cow milk. I found that there is a lot of natural goodness in goat milk!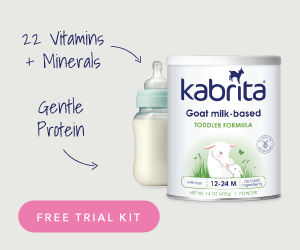 Benefits of Goat Milk
Goat milk protein is easy to digest

Naturally rich in vitamins and minerals, such as calcium

Contains minerals that are easily absorbed by the body

Has lower amounts of lactose than cow milk (for lactose-sensitivities)
Several companies have harnessed the natural benefits of goat milk protein by creating a goat milk-based formula. They do this by suitably adapting and fortifying goat milk (this is very important for the safety of little ones!). My next step was to compare several goat milk formulas based on these two factors:
The quality and purity of the goat milk (organic/non-GMO/pastured);

What had been added to the formula, both the positive nutrients and for the problematic preservatives, artificial colors, flavors, etc.
What I found to be most impressive is Kabrita is made in the Netherlands using non-GMO goat milk. It is the only formula sold in the US to be certified free of Glyphosate (a pesticide). It is free of growth hormones and heavy metals.
I really enjoyed reviewing the Real Mom Stories that Kabrita USA shares on their blog that detail other families' experience using the product and how it has benefited their little ones. Parents tell Kabrita that they see improvements with tummy troubles, rashes and eczema when they make the switch! Kabrita goat milk formula is gentle on tiny tummies.
If you are interested in trying out Kabrita Goat Milk Toddler Formula* for your family, Kabrita will send you a FREE container along with it. Click here for details!
*Note: At this time, Kabrita Goat Milk Toddler Formula is available for purchase in the US. Kabrita is in the process of working through all of the regulatory steps, required by the FDA, to market their infant formula in the US market.